Excellent few hours...
Our guide, was very good. He took time to make sure we knew how to operate the quads. We drove through little villages and through farm land and banana plantations. ~ Client from Cardiff, United Kingdom
Experience St. Lucia, spectacular views with Aanansi ATV Tours
Destination Aanansi
Aanansi ATV packages comprise of pickup from various hotels and cruise ships to the ATV site and back. Normally less than a 20 minute drive from most locations.
Never Rode An ATV
Upon arrival you will be welcomed by our tour guide who will then briefly highlight the necessary instructions and use of safety gear. then work with you to help you understand how to ride the vehicle and how to manage the terrain.
Fun and Enjoyable
You will experience riding an all-terrain vehicle through beautiful St. Lucia's, lush, mountainous banana, coconut and citrus plantations and finally there is an unimaginable panoramic view of the Atlantic on our North east coast.
The roads are rough in many parts of St. Lucia, and what better way to tour than ATVs… the staff at aanansi were very helpful, especially to the first-time riders. Make sure to wear comfortable shoes. Would use these guys again.
Mathew M - Trip Advisor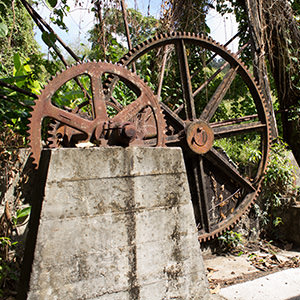 This was such a great ride. Wish it was longer. 2 hours goes by very quickly. Desmond was our tour guide, and he definitely knows the meaning of ALL TERRAIN. Definitely a ride I would tell anyone to take..
Julie T - Trip Advisor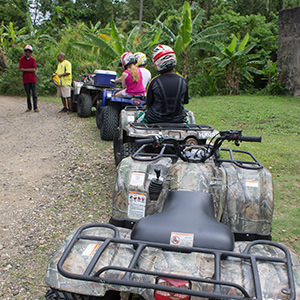 Went Christmas Eve. We had a very nice taxi pick us up and bring us back. Included. Great guide. Not a huge amount to see per se. Amazing stop overlooking Atlantic Ocean. One ATV wouldn't start. They repaired by switching out batteries. Was very easy for them. Just hung out while we waited. No problem! Was fun.
Funfeetgal ~ Trip Advisor
Are you ready to experience Aanansi ATV Tours?